Mama na Mtoto collaborated with the University of Calgary's Cumming School of Medicine, Mbarara University of Science and Technology (MUST) and Healthy Child Uganda (HCU) to create a Community Health Engagement Field Experience Group Study Program. Students had the opportunity to work alongside the HCU team, local communities, and MUST faculty and students to gain hands-on exposure to community development, health promotion and social determinants of health in rural Uganda. The first week involved participatory sessions based in Mbarara town that oriented students on the Ugandan health system and context, cultural sensitivity and community engagement principles and approaches. In the final two weeks, students, together with communities, created and painted health promotion messages on health facilities in three Rubirizi district communities. Emily Downey was one of ten students that participated. Below is a reflection of her experience.
---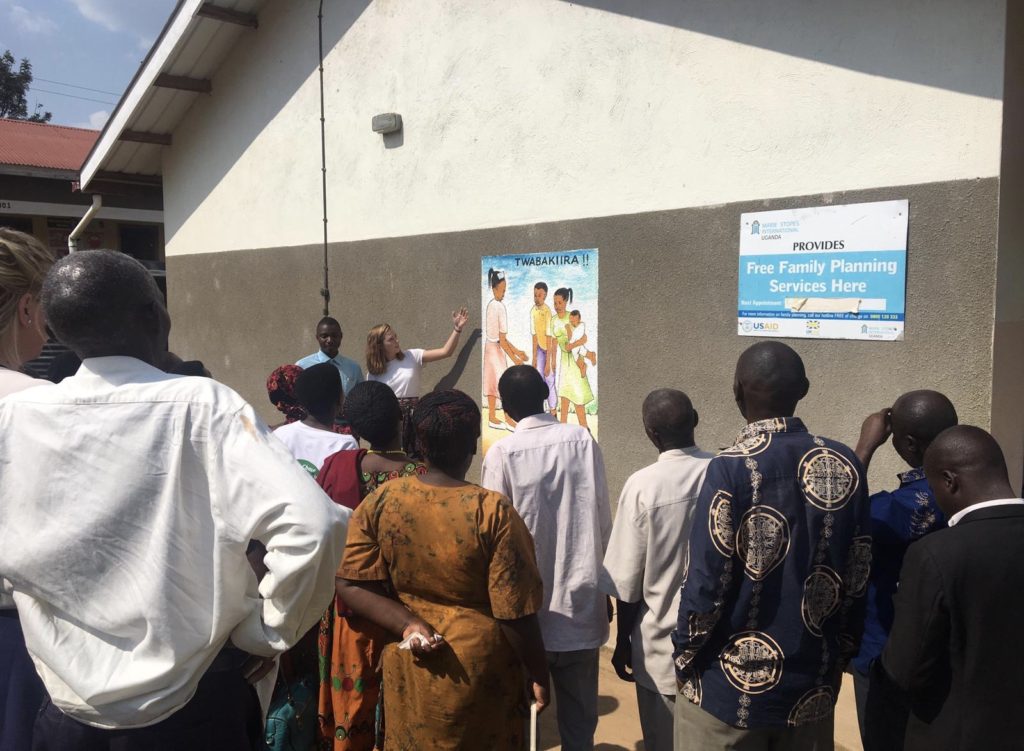 "Twabakiira!!" – Welcome!! This is a photograph of Norman and me unveiling the first health promotion painting to the community of Bukiro. Our Global Health Community Engagement Field School to Uganda was led by local students and faculty from the Mbarara University of Science and Technology (MUST). During the engagements with our assigned communities, the University of Calgary students would usually begin by talking in English and then a local MUST student would translate in Runyankole. Here, I am describing how we took what the community wanted to see on the front of their Health Centre III and translated it into an image with the help of our local artist, Elias. The community wanted to see an image of a nurse welcoming a couple and their child to the facility. Male involvement was a key theme for Bukiro's community members, so they were excited to see this painting.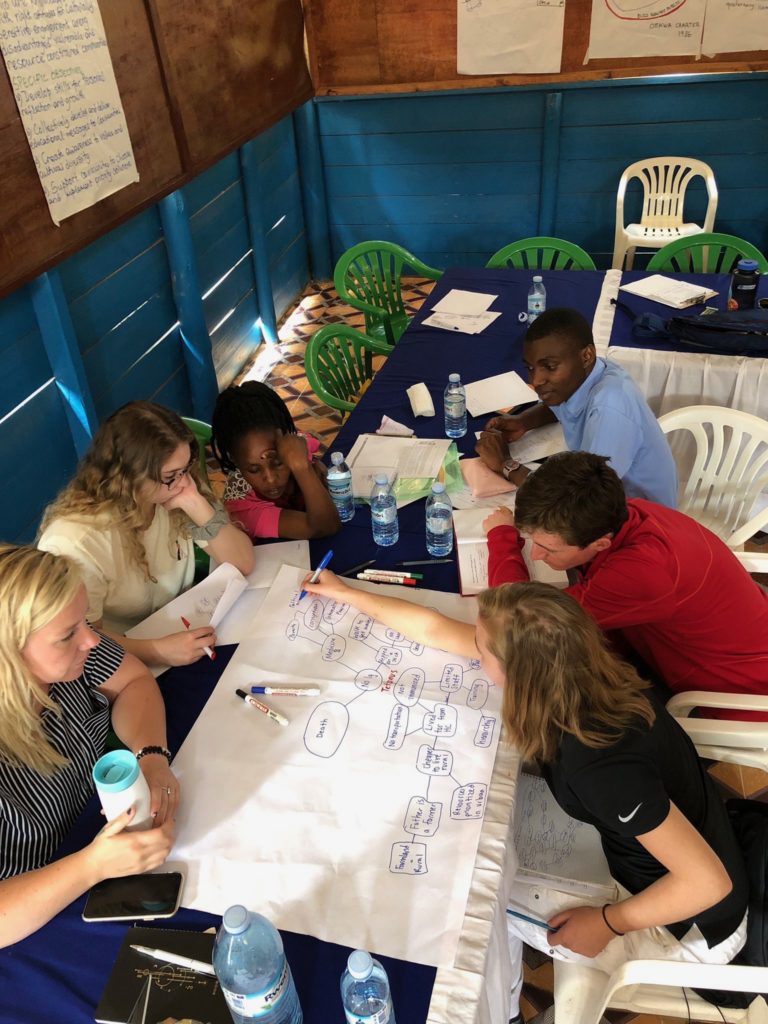 In this photograph, my peers and I are working together on a causal web in the Healthy Child Uganda classroom. As a class, we read a fictional story that highlighted how certain circumstances ultimately resulted in a young girl stepping on a stick, failing to receive proper treatment for her cut, and later dying of a tetanus infection. Using a causal web, we had to identify all of the reasons that led to this. One of the lessons we learned during our field school was that effective health policies and interventions need to address the social and structural determinants of health, or the reasons that were on the edge of the causal web.
My field experience in Uganda has shown me what it means to be flexible, courteous, and a strong facilitator. It was absolutely necessary to be flexible on our trip because it was a pilot program and therefore the schedules were bound to change. After returning from Uganda, I have a new-found appreciation for being in the moment and not worrying about precise minutes and hours. During this experience, I also observed and participated in the Ugandan custom of formal introductions which invite each guest of honor to say their remarks. I recognized that this courteous behavior produces a comfortable and homey environment—not one of urgency and detachment. I will definitely bring this back to Canada. Coming into this field school, I did not know what was going to be expected of me as a student. In total, I presented in front of an audience at least 10 times. As a facilitator in a community, you have to be confident, clear, and precise in your communication. I am usually nervous before presentations, but during this trip I gained confidence in my public-speaking skills. I had always wanted to improve these three skills, flexibility; courtesy; and communication, and I am pleased with my growth.
I know that I will use these three skills as I continue in my education and most certainly in a future medical career. With my career goal of entering medicine, it is important for me to find a niche that supports flexibility and dynamic progression. I have come to realize that I will not be happy in a job that is stagnant. Entering medicine with an intent to be an active member of policy-making and possibly global health initiatives, has presented itself as an interesting career path for myself. I would serve as a strong candidate for such a leadership position if I apply the three skills I learned while abroad.
I entered the Ugandan Field School knowing that I would learn more about global health and more about myself as a person. I am honored to be one of the first students to pilot the Global Health Community Engagement project, and I cannot wait to encourage other students to join next year. There is great value in studying abroad; I have gained perspective and grown as a mature student and attentive citizen.
Emily Downey is a third-year Bachelor of Health Sciences undergraduate student at the University of Calgary.